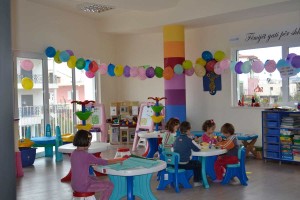 Network of Community Development Centres "Today for the Future", paying special attention to children.
The preschool program is applied in "Butterflies" kindergartens in Durres and Puka, as a dedicated service to the communities.
"Butterflies" kindergartens offer curriculum for kindergarten and preschool; creative activities, games; internal and external recreational facilities; excursions; hiking; hygienic care, healthcare etc.
The educational program is developed as an appropriate and modern curriculum, built to serve the comprehensive development of preschool children. This program helps to develop the intellectual, linguistic, emotional, social, cognitive and physical development of preschool children in the educational process.