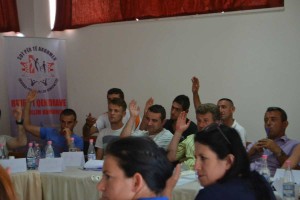 "Today for the Future" Network pays special attention to the involvement and engagement of men and boys in its fields of activity. To achieve the required changes in a society where equality is the key subject, the inclusion of men and boys in all aspects of the work that the Community Development Centers Network develops is quite important.
Men and boys are the main partners in the fight for gender equality; therefore they are involved in initiatives and concrete activities, such as "Men and Boys – part of the solution" and "Walking in her shoes".
Men and boys are also an important part of the Family Year, being actively involved in enhancing their positive roles as husbands, fathers and brothers and for the progress of building a healthy family today for a better future tomorrow.
Very important for the community services is the inclusion of men and boys in community actions and initiatives such as the Initiating Group, initiatives to improve public and environmental services, community infrastructure, legalization process and drafting of plans for improvement of social conditions – those directly associated with good governance.
Men and boys are also engaged in support of the economic empowerment of women, to alleviate the differences between minorities and to promote the values of diversity.